Toys Go 'Round Toy Lending Library
Toys Go 'Round Toy Lending Library proudly offers over 1,000 toys, games, puzzles, and other items that can be checked out with a paid membership. Perfect for families, grandparents, daycare providers, and schools! Memberships are available to residents of Decorah and neighboring communities. Come take a tour or browse our electronic library~ see what we have to offer!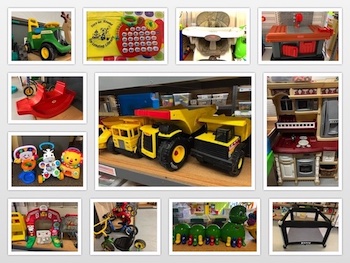 Toys Go 'Round provides quality items, most new, and some classics. Selections include STEM (Science, Technology, Engineering, and Math) toys, play sets, kitchen sets, games, dolls, trucks, farm toys, building blocks, musical instruments, outdoor equipment, riding toys, infant toys, and infant equipment - just about anything that is just plain fun! There is something for kids of all ages!
Toys Go 'Round (TGR) Toy Lending Library is a unique service located in Decorah, Iowa. It was started by a group of child care providers who knew the importance of play in a child's life!
Toys Go 'Round is a Community Betterment Award Winner.
Find us on Facebook